Online Fundraising Auction

September 1, 2021 - September 30, 2021
Enter Auction Site
We are holding an online fundraising auction to raise money for scholarships to benefit North High seniors in 2022. All donations are tax deductible. Every penny from the auction and cash donations goes to the scholarship fund!
Ann Sanchez, Class of '48 has agreed to have her painting of North High, "The Good Old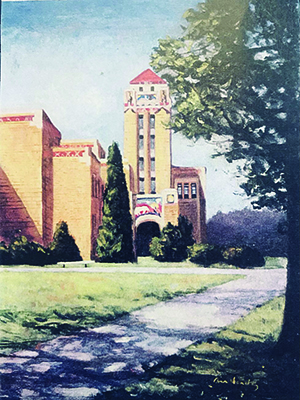 Days," be reproduced. Neil Holley, manager of Direct Mail Printers, donated the 500 small prints of Ann Sanchez's painting. Anyone who makes a cash or in kind donation for the scholarship fund will receive one of her prints. Click on the photo or a larger view.

● The Scholarships will go to 2022 North High graduates
● The auction will be open September 1, 2021
● Purchased items for the auctions need to be brought to the Villa Luna Venue Saturday night in order to eliminate shipping costs
● Jane Dooley and Marty Sampson are on the North High Scholarship Selection Committee
Thanks to these classmates for donating the following items, crafts, or services for our First Annual Scholarship Auction!
● Polly (Wilbur) Hurst (13 x 16 cast acrylc depiction of Idian Chief, Buffalo, & North Tower) photo
● Sue Crowl (Basket of her handmade lotions and sensual scents) photo
● Marty Blow Sampson (Handmade memory quilt with reunion tshirts donated by Steve Miller) photo1 photo2
● Marty Blow Sampson (North T-Shirt Tote) photo1 photo2
● Marty Blow Sampson (Tote with picture of North Tower, drawn by Diane Blow ) photo
● Marty Blow Sampson (Coffee mug with picture of North Tower, drawn by Diane Blow) photo
● Marty Blow Sampson (Cell phone skin of picture of North Tower, drawn by Diane Blow) photo
● Jane Dooley (Red and white crocheted afghan) photo1 photo2
● Bill and Linda Powell (North High football helmet and 2 North High auditorium chairs) photo
● Rosemary Falconbridge Miller (Memorial or other video using your photos)
● Rosemary Falconbridge Miller (Website - View portfolio)
● Kim McGinness Honeycutt ("The Chief" Keeper of the Plains 30x40 photo on canvas) photo
● Sue Lichtenberger Zongker (Mary Kay Timewise Kit: cleanser, day cream, night cream, and eye cream) photo
● Diane Masek-Blow-Marty's sister-in-law (Colored pencil drawing of the Tower) photo
● Lynn Arnold (Quilt) photo
● Dale Allison Hartley (Flint Hills handmade tile) photo1 photo2
● Debbie McLeland Albin (Hand-pieced quilt) photo
● Arnold Graef (Sail Boat Print) photo
● Gina Kellogg (Pillow from her Making Faces Project) photo1 photo2 photo3
● Mike Brown (Husband of Janet Dagenais Brown) (Black & White framed drawings of east face of North High) photo1 (18x24 framed) photo2 (16x20 framed)
● Chris Cappitelli Frederick (Wine Basket) photo
● Polly Wilbur Hurst (Abstract picture of North High)
● Mardy McMinn (Owner, The Mail Room) (140 prints of drawings of the North Tower and building)
● Anita Martz (Mini red and white quilt on wire stand) photo1 photo2 photo3
● Dave Lister (hand carved (CNC) coaster) - 5 1/2") pine or oak
● Dave Lister (Indian Chief with wolf. Deep inlay 3D item that is 12"x6.5"x1") photo
● Dave Lister (NHS Original Band Hat) photo1 photo2 photo3
● Cash Donations: Larry Blackwood, Arnold Graef, Alan Huffman, Becky Thompson Holm, Pam Dennis Cowser, Danny White, Linda Judd, Jim Shaver, George Delaney, Steph Norris, Donald Dowell, Mike & Janet (Dagenais) Brown, Debra (Freund) & Ron Butler, Vickie (Osterman) & Bill Sample