Hello North High Class of 1970!
This is Your Site!
First time visit?
Go to - I'm New, Now What? link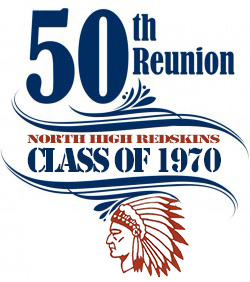 SAVE THE DATE!
OCTOBER 9,10, & 11, 2020
MARK IT DOWN AND START PLANNING NOW TO ATTEND THIS FUN-FILLED WEEKEND!!
The planning has started and we are excited and expecting our 50th Reunion to be the biggest and best Reunion yet, but we need your help. To help keep our ticket prices low, yet have the best Reunion we can have, we are asking that you consider donating to our Class Reunion Fund. We are calling it "CAMPAIGN '50, with a goal of $5,000. Not only will this help us to throw the best party yet, but it insure that we keep our domain name current and keep our website going for years to come. Check out our website and see where we are at with donations that have come in. Please donate and help us meet our goal, and be sure to sign up for our 50th Reunion, coming up in just 1 year. Thanks................from your Reunion Committee.
Thank you to the following classmates who have donated to the Campaign '50:

Rosemary Falconbridge Miller
Alan Huffman
Bill & Linda Powell
Kim McGinness Honeycutt
Marilyn Kelly Brown
Susie Orr Prosser
Tracie Brabham
Jane Dooley
David Shaw
Kim Santellan
Kathy Baldwin
Steve Miller
Reba Pierce Chrisler
Butch & Martha Butler
Debbie Morris Ketcherside
Steve & Anita Martz
Telitha Schultz
Sue Pinnell Crowl
Kent Maack
Lynn Gomez Arnold
Pamela Dennis Cowser
Rebecca Thompson Holm
George & Marlene Delaney
Stephanie Norris
Kathy Fleming



Cathy Megee Harned
Karen Boone Driscoll
Dave Lister
RichaDene Butler Shaw
Bobby Hawkins
---
LOOK AT THE MISSING CLASSMATES LIST AND IF YOU KNOW ANYONE'S WHEREABOUTS, CONTACT THEM TO JOIN THE SITE. IT'S A GREAT WAY TO RECONNECT WITH OLD FRIENDS AND LEARN ABOUT REUNION AND OTHER NEWS ABOUT OUR CLASS.